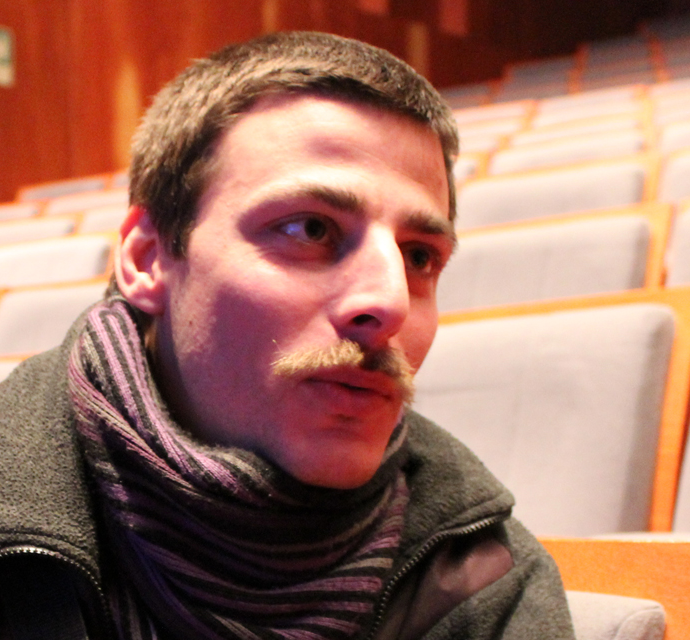 Tiago Schwäbl Natural de Coimbra (1985), passou parte da infância e juventude na Ilha Terceira, Açores. Concluiu o 7º grau de piano no Conservatório de Música do Porto e a Licenciatura em Flauta Transversal na Escola Superior de Música e das Artes do Espectáculo (ESMAE) do Porto, onde colaborou com as classes de composição e percussão em projetos de música contemporânea e improvisação, estreando obras de Nuno Jacinto, Duarte Dinis Silva e Nuno Peixoto de Pinho (Festival Música Viva 2007 e 2010 – MisoMusic). Iniciou o Mestrado em Poesia e Poética na Faculdade de Letras da Universidade de Coimbra, e concretizou a performance conjunta 'Os Sons It(n)rantes' no Teatro da Cerca de S. Bernardo (Set 2010), prosseguindo como estudante Erasmus na Freie Universität Berlin, numa estadia que se alongou, participando em vários projetos de música contemporânea e teatro-dança (Compagnie ZwischenWort), em experiências de som, traço e movimento.
Tiago Schwäbl was born in Coimbra (1985) and grew up in Terceira Island in The Azores. He completed 7th Grade in piano at the Conservatório de Música do Porto and graduated in flute at the ESMAE, Porto. He worked in collaboration with the Departments of Percussion and Composition, and was involved in various improvisation concerts and "New Music", such as the Festival Música Viva (2007, 2010), where works by Duarte Dinis Silva and Nuno Peixoto de Pinho were premiered. He began his Masters Degree in Poetry and Poetics at the University of Coimbra in 2009 – and presented a performance of 'Os Sons It(n)rantes' in 2010. He continued his studies at the Freie Universität Berlin as an Erasmus Student and stayed in the city to participate in contemporary music and theatre-dance projects (Compagnie ZwischenWort) working in the areas of sound, (out)lines and movement.
Tiago Schwäbl. 1985 in Coimbra (Portugal) geboren und auf den Azoreninseln aufgewachsen. Studierte Querflöte an der Hochschule für Musik und darstellende Kunst (ESMAE) in Porto, Portugal, und besuchte auch die Klavierklasse an der Staatlichen Musikschule. Spielte regelmässig mit der Komposition- und Schlagzeugsklasse bei Aufführungen neuer Musik, zu Festspielen wie "Festival Música Viva" (2007, 2010). Uraufführungen der Werke von Duarte Dinis Silva, Nuno Jacinto und Nuno Peixoto de Pinho. Begann den Master in Poesie und Poetik an der Universidade de Coimbra – es entstand die Performance 'Os Sons It(n)rantes' (2010). Folgte dann als Erasmusstudent an die FU- Berlin. Wohnte weiter in Berlin, und nahm bei verschiedenen Projekten neuer Musik und Tanztheater (Compagnie ZwischenWort) teil, auf der Suche nach Klang, Zeichen und Bewegung.
Documentos disponíveis em voxmedia.uc.pt: