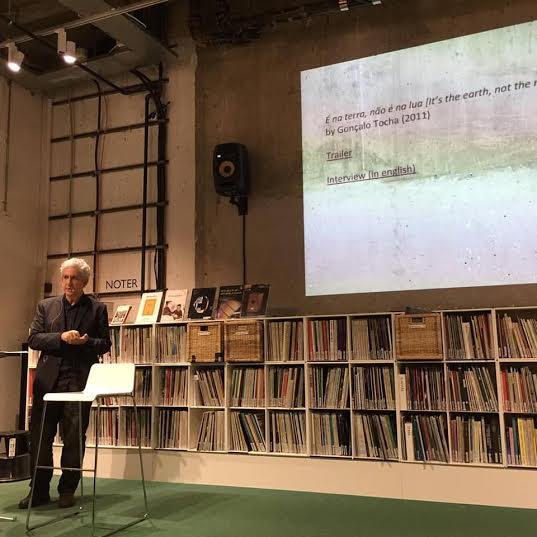 Osvaldo Manuel Silvestre é professor do Departamento de Línguas, Literaturas e Culturas da FLUC. Tem leccionado cadeiras nas licenciaturas em Línguas e Literaturas Modernas e Estudos Portugueses e Lusófonos, na área da Teoria da Literatura, em que se doutorou, e ainda na licenciatura em Estudos Artísticos (Estética, Arte e Multimédia, Introdução aos Novos Média, Análise de Filmes). Leccionou ainda, no actual Departamento de Ciências da Vida da Universidade de Coimbra, uma cadeira opcional de Antropologia e Literatura, em co-regência com Luís Quintais. Na pós-graduação leccionou cadeiras de Teoria da Literatura e de Literatura de Língua Espanhola (um curso sobre «Os Mundos de Borges»). Dirigiu a licenciatura de Estudos Portugueses e Lusófonos entre 2006 e 2009. Publicou ensaios e livros sobre questões de teoria, estética, literaturas de língua portuguesa, literatura comparada, artes e crítica cultural. É membro do Centro de Literatura Portuguesa da Universidade de Coimbra.
Osvaldo Manuel Silvestre teaches in the Department of Languages, Literatures, and Cultures at the Faculty of Arts, University of Coimbra. He holds a Ph.D. in Literary Theory from the University of Coimbra. He has taught courses in the Modern Languages and Portuguese and Lusophone Studies BA Programs. He has also taught in the Art Studies Program (Aesthetics, Art and Multimedia, Introduction to New Media, Film Analysis). In collaboration with Luís Quintais, he has taught a course on «Anthropology and Literature» in the Department of Life Sciences at the University of Coimbra. At post-graduate level he has taught courses on Literary Theory and on Spanish Language Literature («The Worlds of Borges»). He was coordinator of the Portuguese and Lusophone Studies Program between 2006 and 2009. He has published articles and books on theory, aesthetics, Portuguese language literatures, comparative literature, contemporary art, and cultural criticism. He is a member of the Centre for Portuguese Literature at the University of Coimbra.
1. Organização, com Pedro Serra, do volume Século de Ouro. Antologia Crítica da Poesia Portuguesa, Coimbra-Lisboa, Angelus Novus-Cotovia, 2002.
2. «Pai Tardio. Ou de como Cesariny inventou Pascoaes», in Teixeira de Pascoaes. Obra Plástica, Famalicão, Fundação Cupertino de Miranda, 2003.
3. Seria uma rima, não seria uma solução. A poesia modernista, Organização, Selecção e Introdução, com Abel Barros Baptista, Curso Breve de Literatura Brasileira, nº 4, Lisboa, Livros Cotovia, 2005.
4. «A minha pátria é a língua portuguesa (desde que a língua seja a minha)», in O Trabalho da Teoria. Colóquio em homenagem a Vítor Aguiar e Silva, Ponta Delgada: Universidade dos Açores, 2008.
5. «Modernismo» e «Vanguarda», verbetes no Dicionário de Fernando Pessoa e do Modernismo Português, Coordenação de Fernando Cabral Martins, Lisboa, Caminho, 2008.
E-mail: oms.fluc[at]gmail.com
Documentos disponíveis em voxmedia.uc.pt: